The scheme is named in memory of Stewart Hastie, who wrote two editions of The BHS Veterinary Manual and received a BHS Award of Merit for Welfare and Training following a significant contribution to the equine and veterinary industry over many decades. 
The inspiration for the initiative came from Dr Teresa Hollands, Senior Teaching Fellow in Veterinary Nutrition. Dr Hollands said: "Veterinary universities provide an amazing opportunity for the work of the BHS to be promoted to a new and important audience. Equally exciting will be the sharing of research being undertaken by veterinary universities and the dissemination of this knowledge to members. Surrey is proud to be part of this initiative and look forward to working with the BHS." 
Meet our Student Vet Champions
Liz Johnson
My name is Elizabeth Johnson, I'm a mature student in my first year studying Veterinary Medicine at the University of Surrey. I'm passionate about all things equine, but particularly fond of racehorses. Prior to starting my studies at Surrey, I was lucky enough to have my own point to point horse and spent time working with horses in training. I'm very excited to be working with the British Horse Society as a Surrey Vet Student Champion to further enhance the welfare and understanding of our equine friends.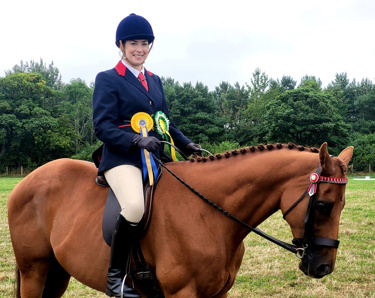 Rosie Skidmore
My name is Rosie Skidmore, and I'm thrilled to accept the role of British Horse Society's Vet Student Champion for the University of Surrey! I've wanted to be a vet since I was a little girl, sitting at home watching Bondi Vet on TV. I used my background in horses to get jobs working on stable yards which provided me with amazing experience for my CV, and also had me interacting with vets much more, and seeing a side of the profession I'd never seen before - equine veterinary surgeons. The intricacies of their knowledge enamoured me, and coupled with my love of horses, I knew it was the speciality I wanted to pursue. I worked hard through GCSEs and A-levels whilst also taking on a new mantle of horse owner at 14, owning first a four-year-old thoroughbred and then buying my heart horse Power at 15. Power is a big Irish Sports horse who I'll never part with. My horses taught me to never give up, even when it gets tough - a message I carry with me into my veterinary education, and into my future role!