Do you enjoy being outside in the fresh air? Do you have a love of animals? Are you looking for a new challenge? Then horse riding could be everything you've been looking for.
Experience the precision of the dressage arena, or simply delight in a leisurely ride out with friends. There is something for everyone; age is no barrier as many centres can cater for tiny-tots to riders in their seventies and beyond. 
If you are looking to have your first lesson, you will want to pick an establishment that is both reputable and well run.
Our approved establishments have horse and pony welfare along with client safety and satisfaction as priorities. All establishments are licensed and insured for public liability and comply with the latest health and safety legislation.
Your First Riding Lesson
The day has arrived for your first lesson. Be prepared to listen to what you are taught and don't rush; take everything one step at a time. The horses will do their best to accommodate you and forgive your mistakes. Remember that you are taking up riding for fun, so relax and enjoy yourself.
The Horse
For your first lesson, your horse may be brought to the arena for you, but if you tell the staff at the riding school that you are keen to get to know your horse better, they should take the time to show you how to approach your horse and lead him yourself. Horses that are used for novice riders are good-natured and quiet, so you will enjoy handling your mount as well as riding him.
The Lesson
During your first lesson you may spend a lot of time talking about your riding position and feeling the movement of your horse. You will probably be led around an indoor or outdoor arena on a lead rein and may stay in walk throughout. However, you may also be given the opportunity to get the feel for trot.
Don't be afraid to ask your instructor questions or let them know if you are experiencing any problems.
What's next?
As time goes on and you continue to learn, you may ride a variety of horses. One thing you will soon learn is that horses differ in their temperament and rhythm, and you will soon find your favourites. Learning to ride correctly is a long and sometimes bumpy road but the rewards are fantastic!
Our BHS riding awards
We offer a range of exciting recreational riding awards which will develop your confidence, skills and knowledge with all things horsey. Our Pony Stars and Horse Explorers awards are designed specifically for younger riders, but anyone is welcome to give them a go.
arrow-right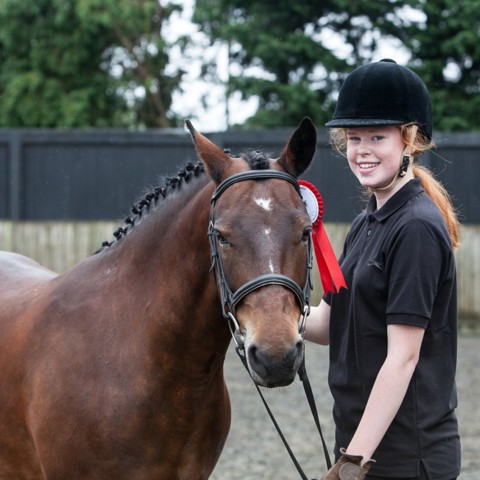 BHS Approved Riding Centres
Our Approved Centres go that extra mile to ensure you have the best experience possible. Being a BHS Approved Centre means that our centres are held to the highest standards and undergo additional inspections. Staff are experienced and hold qualifications to evidence their knowledge and coaching ability and take pride in the welfare of the horses they care for.