Right now, hundreds of horses are being rescued from a life of mistreatment, cruelty, and neglect. 
Our Second Chance project rehomes neglected, mistreated and rescued horses, giving them a second chance to discover a better life at one of our BHS Approved Centres. Our centres are home to BHS-qualified professionals who are equipped with the understanding, patience, skills, and knowledge needed to assist and rehabilitate those horses in desperate need. 
We've successfully rehomed 92 horses since the programme began, but with numbers at an all-time high, we need your help.
Changing Lives
The Second Chance programme begun as a pilot partnership project with the RSPCA in 2019, placing 25 rescued horses into some of our Approved Centres that were delivering the BHS's Changing Lives through Horses (CLtH) alternative education programme. The difficult backgrounds experienced by many young CLtH programme participants made them particularly able to relate to these horses. In the latest round of the project in July 2021, an incredible 221 of our Approved Centres registered their interest in rehoming.
But without your help and our brilliant riding schools, these horses face an uncertain future. 
Meet our Second Chance Horses
Slinky

Slinky was rescued from appalling conditions. Years of manure had built up in his stable to above door height. To rescue him and other horses like him, the fire brigade had to be called to dig them out. After almost a day of digging, Slinky was safely freed, but left petrified, physically weak and mentally scarred.


 
Slinky found his new home at Parbold Equestrian Centre in West Lancashire. After arriving at Parbold, he was too nervous to leave his stable, even after a few days. But, after two years of physical and mental rehabilitation from the expert care, patience and understanding of Yard Manager Carrie Byrom, Slinky was able to turn a huge corner. He now lives a fantastic new life as a beautiful, young horse.

"With time and patience Slinky is doing really well. He gets ridden regularly and is working towards his first dressage competition. He loves to jump and is proving to be very scopey and keen. He is so much happier and more settled. He takes careful management as his past has undoubtedly left mental and physical scars, but he is a happy and calm horse now looking towards a much brighter future.

Rescuing a horse from mistreatment and neglect costs up to £250 to cover costs for transport, vaccinations, and admin fees to accommodate them at our riding schools. Your donations continue to make these transformations possible. With more Slinkys to find a brighter future for, we urgently need your help." Carrie at Parbold Equestrian – June 2021 
Tommy & Angus

Firm friends from their first meeting, Tommy and Angus have come a long way since their rescue. Tommy was abandoned on the road as a weak and underweight yearling, and best friend Angus was taken from a banned breeder into charity care.

Through the BHS they have been rehomed with BHS Approved Marros Riding centre and have flourished under the careful guidance of the staff who work there. Their personalities soon came to the fore with Tommy identified as 'the boss' and Angus a sociable character, getting on with mares and geldings alike. This cheeky pair now a have future where they will continue to gain confidence whilst bringing joy to children for generations to come.
Help give neglected horses a second chance
Slinky, Tommy and Angus have had their lives given back to them. But there are more horses, just like them, who need your help. Your donations can help us deliver a brighter future for rescue horses, so they can rest, recover and rediscover a brighter life as a ridden horse.
Other ways to donate
SMS

Text CHANCE 10 to 70607 to donate £10
Text CHANCE 20 to 70607 to donate £20
By phone

Please call us on 0300 330 0148*

*Calls may be recorded for monitoring purposes.
By post

Please make all cheques payable to 'The British Horse Society' and sent to:

The British Horse Society
Abbey Park
Stareton
Kenilworth
CV82XZ

Please write 'Second Chance Rehoming Project' on the back of the cheque. Please do not send any cash by post.
Changing Lives through Horses
Changing Lives through Horses aims to improve the lives of disengaged young people, regardless of their background, and give them the opportunity to develop skills that enable them to return to education and/or employment.
arrow-right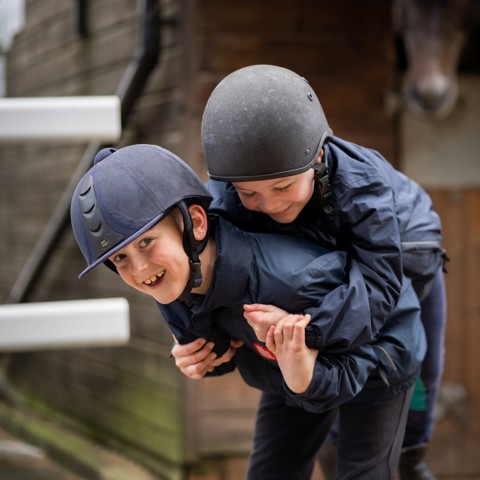 Deliver Changing Lives through Horses at your riding centre
If you are passionate about helping young people and wish to offer the Changing Lives through Horses programme at your riding centre then you can find out more here about delivering the programme here.
arrow-right