Event organisers should have biosecurity procedures and risk assessments in place to reduce the risk of disease. We recommend that you familiarise yourself with these before the event and if you do not feel comfortable with the measures put in place, do not attend.  
When you take your horse to an event, it is important to think about how you will prevent the spread of disease before, during and after the event or competition.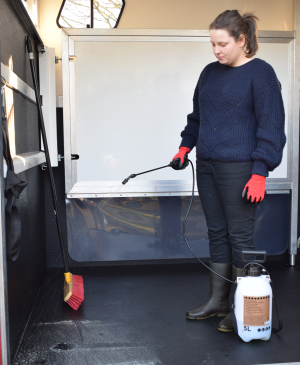 Before an event
Make sure your horse's vaccinations are up to date. As a minimum, we advise keeping up to date with

equine influenza

and tetanus vaccines.

 

Check what the specific vaccination requirements are with the event organisers or relevant governing body. If your horse doesn't meet these requirements, you are unlikely to be allowed to attend.

 

Remember to check the vaccination rules of the venue if you are hiring equestrian facilities.

 

Talk to your vet about vaccinating your horse against

Equine Herpes Virus (EHV)

to help prevent both respiratory disease and abortion caused by EHV-1 and/or EHV-4. (This is especially recommended for horses under five years old as they are particularly susceptible to respiratory disease caused by


EHV-1).

 

Make sure your equipment and transport, including the tyres, were cleaned and disinfected after your last event.

 

Avoid sharing transport with horses from other yards. Where shared transport is necessary, monitor both horse's temperatures once back at the yard.

 

Remember to pack your own equipment, water supply and buckets to avoid needing to share these at the event.

 

Do not take your horse to any event if your horse, or another horse on your yard, is showing any signs of not being well.

 
If travelling abroad to an event check the countries status for West Nile Virus and make sure to take precautionary action where necessary.
At an event
Don't take your horse to an event if they, or another horse on your yard is unwell
Vaccinate and keep them up to date
Take your own water supply, or clean buckets if using event taps and avoid sharing equipments
Ensure the stable and bedding is clean if your horse is being stabled at an event
Wash your hands after touching other horses
Prevent contact off your yard
Avoid grazing your horse at the venue
Clean and disinfect equipment and transport after events
Make the event organiser aware if your horse becomes unwell at an event or if illness is confirmed by the vet within 14 days following an event
Monitor your horse closely, ideally for at least two weeks after the event, including daily temperature checking.
After an event
Clean and disinfect your equipment and transport, including the tyres, when you return from the event.

 

We recommend that you keep your horse in isolation on returning to your yard if they were stabled in close contact with other unknown horses at an event.
        See our guidance on isolation procedures.
Monitor your horse closely for 14 days after an event, including daily temperature checking to spot infection early.