Kindly sponsored by: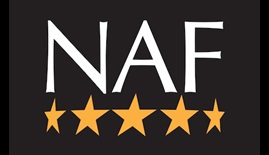 We are delighted to welcome back NAF as sponsors of the National Horse Trials Championships. 
 5 - 7 August 2022
Venue: Swalcliffe Park, Grange Farm, Swalcliffe, Banbury OX15 5EX
The BRC NAF Five Star National Horse Trials Championships is a competition for both seniors and juniors, teams and individuals. The event consists of dressage, show jumping and cross country phases as well as roads and tracks and steeplechase for selected classes (please see below for which classes this applies to).
At the championships, the one-day events are as per the qualifiers for 2021 in order to limit people on site on a given day. On years when we can run Long Format and 2 and 3 day events: The two-day event classes complete their dressage and show jumping on the first day followed by the roads and tracks, steeplechase and cross-country on the second day. The three-day event classes complete their dressage one day one, roads and tracks, steeplechase and cross-country on day two with the show jumping on the final day in reverse order of overnight placings. Details on the number of jumping efforts, maximum heights and distances can be found in the BRC Handbook.
Additional awards are also given at this championship. For eligibility criteria for these, please see the information sheet below. To enter, simply fill in a form and send it to brcentries@bhs.org.uk or print off send it in with your championship entry form - there is no additional fee. NB: You must have qualified for a championship class to be considered for these awards.
Important Information
Schedule
Stabling

Stabling is not currently open for this year's championship.  

Once our Championships stabling is open you can book via the  online booking system. 

Please note booking closes 21 days before the start of the competition. 
Hat Tagging

All our members are required to have their hats tagged before competing in any BRC qualifier or championship.  

For acceptable specifications, please review our Hat Standards Guidelines. 
Trade Stands

If you are interested in bringing a Trade Stand to this event, please do get in touch and we will be happy to advise.