Claim your rosette!
To claim your limited edition rosette, all you need to do is complete our simple online form by Monday 14 August 2023.
Your rosette will be sent out in the post, but please allow us a few weeks to get your parcel ready for dispatch. If you've not received your rosette by October 2023, let us know.
Discover your Rideathon Challenge rewards!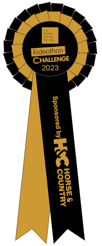 Everyone who completes the 2023 Rideathon Challenge will be sent an exclusive Rideathon rosette and certificate.
Win free annual membership to H&C+ if you're one of our top three fundraisers in the challenge.
Discounted annual membership of H&C+ for anyone who takes part in the Rideathon. Annual membership for £49.99 (a £10 saving).
Take pride in your Rideathon Challenge
Download our digital assets to share your success on your social profiles and let everyone know how you got on.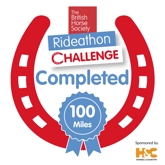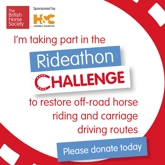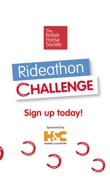 Use our distance tracker to track your miles if Equilab app is not your go-to way of recording your progress.
Want to support Rideathon without going digital? Complete our sponsorship form - we are deeply grateful for every donation we receive.
What is the Rideathon Challenge raising money for?
To make off-road riding safer
Repairing broken fences and damaged paths, cutting back overgrown trails, or installing brand new routes, The British Horse Society Ride Out Fund helps projects which rescue and restore equestrian public rights of way throughout the UK. The Ride Out Fund ensures everyone can safely enjoy off-road routes with their horses. With more and more horse and rider road injuries being reported every year, off-road access is vital for the safety of equestrians. Every penny you raise will support the BHS with our mission for all equestrians to be able to enjoy off-road access.
Our sponsor Horse & Country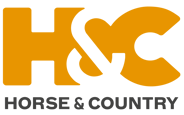 H&C are delighted to partner with the team at the BHS for another year on 2023's Rideathon campaign. We know that well maintained bridleways and access to the countryside are vital for equestrians across the UK - including our members. The BHS play a pivotal role in making sure riders and horse enthusiasts from all disciplines can enjoy the countryside and wider landscape away from our yards - whether it be securing, preserving or expanding access to such places. But, this all-important work can't be achieved without wider support from the equine community.
As such, we're thrilled to be promoting Rideathon to all of our UK members throughout the coming months - in order to raise vital funds for the campaign. We'll also be offering a membership discount on H&C+ to all Rideathon participants, so you'll have access to our coverage of live horse sport, as well as our on demand series - including every episode of 'Rudall Rides With', our popular hacking-themed show.
We hope you'll be participating in your own Rideathon adventure this July - and look forward to seeing you out fundraising with your horses, family and friends. Happy hacking! 
Heather Killen, Horse & Country CEO