We're strong believers that horses can help young people develop key life skills and, for many, open doorways into a career pathway of their choice. Our Changing Lives through Horses programme connects young people to communities and helps to rekindle a desire to continue with education and training through the magic of horses.
Lenny came to one of our BHS Approved Centres, Country Treks in Kidderminster, after completing a programme with his school. After initially feeling "petrified" of horses, Lenny overcame his fears and felt as if he'd made a special bond with the horses at the centre and wanted to continue the work he'd been doing with them. 
Steph, who works at Country Treks, pointed Lenny in the direction of our Changing Lives through Horses programme ran by qualified and experienced BHS Accredited Professional Coaches.
Lenny began attending the centre after school and had lessons which helped him develop his riding skills, he said: "Country Treks for me has been the best thing that's ever happened to me because I went into Treks not knowing how to ride and from there it's opened a massive doorway for me to walk through and it's the best thing that's ever happened to me."
He added: "I can't thank everyone at the yard enough – they've done so much for me."
His time at Country Treks allowed him to spend time developing six key life skills which can be used throughout the rest of his career in the equine industry: building relationships, communication, confidence, responsibility, teamwork and perseverance.
The time Lenny spent in our Changing Lives through Horses programme led him to follow a path into Horseracing. He has recently attended, and now graduated from, the National Horseracing College where he was awarded with the 'most positive' award.
Lenny found his time at the college especially rewarding, he said: "My experience here has been amazing – it just doesn't feel real. Everything has gone so fast and I've learnt so much in such a short matter of time."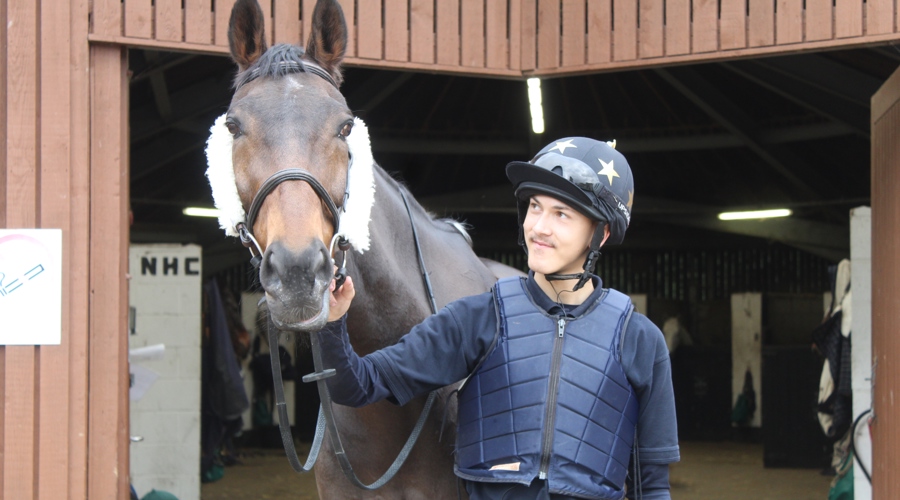 In the last four years we've seen the number of riding schools decline by 15% - meaning 250 schools have closed their doors since 2018. 75% of all riding schools are struggling to attract the staff they need to run at full capacity which means fewer opportunities are available so disadvantaged groups may struggle to secure a place on programmes at their local BHS Approved Centre.
We need your help to safeguard the future of our riding schools and allow other people in the same position as Lenny to experience the special bond between horse and human while also securing key life skills for a career in the equine industry.
Text CHANGE5 to give £5 or CHANGE10 to give £10 to 70507 and help more children like Lenny. Terms and conditions. 
Together, we can change lives
Our Changing Lives through Horses programme has already helped 2,000 disengaged young people gain key life skills and given them the tools to support their future careers. With your donation, we can continue helping young people and keep Britain riding.