The special relationship we have with our horses is unlike anything else. But this relationship is under threat.
With our Keep Britain Riding campaign, we want to make everyone aware of the difference that horses make to our lives and why it's crucial that we stop this trend, as well as save the future of equestrianism.
Volunteers are vital to keeping equestrian passion alive. As part of Volunteers Week, we would like to celebrate one of our regional volunteers, Ellie Griffiths.
Ellie is the Regional Welfare Adviser for Wales and since joining the BHS in 2009, she has attended around a thousand welfare concerns and helped further carers and owners by providing advice. After being nominated by the BHS, Ellie won a Coronation Champion Award. These awards are in partnership with Her Majesty Queen Camilla and celebrate extraordinary volunteers across the country who have been contributing to their communities.
Through her work with the BHS, Ellie works with a wide range of communities and has built a strong relationship with the traveller community, while always focussing on owner education and the welfare of horses. Her efforts have improved the lives of literally thousands of horses, and it's wonderful to see her volunteering recognised beyond the BHS. She sees first-hand how different people interact with their horses and how important that relationship can be.
"Horses are big, broad and beautiful. They have their own smell, their own colour, their own shape and have the most stunning and expressive eyes. They can be strong, gentle and steady, or silly and scared, but each one has their own presence."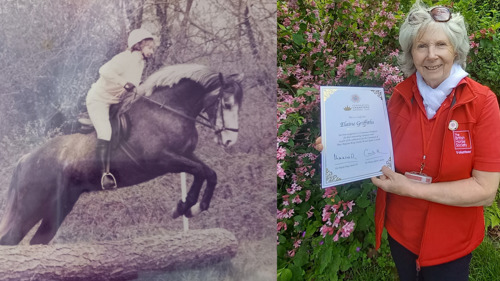 As a Regional Welfare Adviser, Ellie's felt a shift in how she connects with horses. "My bonding has shifted from bonding with just one horse to feeling bonds of attachment to every horse. So, I suppose that you could say that my bonding has now become a compassion that has inspired a need to help and advise where possible."
Ellie strongly believes that the bond between horses and humans is an essential part of equestrianism that can help new riders overcome their nerves. She said "To know your horse is more than just knowing how they will react. It's a feeling that comes with trusting, loving, touching, grooming and feeding. It seems that only good results can come from bonding and knowing your horse, and with that better riding skills and care".
We want to thank Ellie for all her incredible work with the BHS and her local communities. It's entirely fitting for her to have won this Coronation Champion Award. Her final message to riders across the industry is: "Think positive. Enjoy your horse. The world is a lovely place."